Unlike other flooring materials, wood needs to be maintained in a specific way, so that no treatment would damage the material and would consequently end up in a "now I have to change the entire wood flooring" kinda situation, which is, understandably, something everyone should want to avoid doing. If wood floor sanding is a burden you have not yet faced, then you should seriously consider seeking floor maintenance advice or professional help.
We all know that there's one thing that grabs our attention in a not so pleasant way, something that can be disturbing for both a sleeping baby and an old lady – no one likes hearing the sounds of old skirting boards. If you have wooden floors at home or at your business premises, then you know that the regular maintenance of any wooden floor can be costly but it's better if you consider it as an important investment or you may have to deal not only with unpleasant noises but also with major repairs.
"Alpha Floor Sanding" is a leading flooring company in Central and Greater London which is best known for its impeccable expertise in any floor restoration service and proper customer satisfaction.
Sanding Services in Kingston
Although sanding is not a service you have to get done often but in the span of longer time periods, it still is important to hire the right flooring professionals, who will guarantee fully insured service with a high quality rate. Whether you have hardwood, engineered or parquet flooring, the sanding process is an inevitable part of each and every wood flooring material, therefore our team of flooring specialists is all set with reliable sanding equipment and tools.
Preparation of the working area
Before we start the actual sanding procedure, the working space will be prepared in accordance to the service specifics. All furniture will be moved away from the working area with our special moving set, so that no ottoman is standing in the way and floorboards will be cleaned with an industrial vacuum machine.
The Process of Sanding Wood Flooring
A regular sanding process, performed by our wood flooring specialists, consists of:
Getting rid of the old coat of wood lacquer with a more abrasive sandpaper grit.
Evening out the level of all floorboards or parquet blocks.
Eliminating any discoloration like stains.
Finishing the sanding procedure with a fine sanding paper which helps remove any leftover blemishes.
Applying a new layer of wood varnish.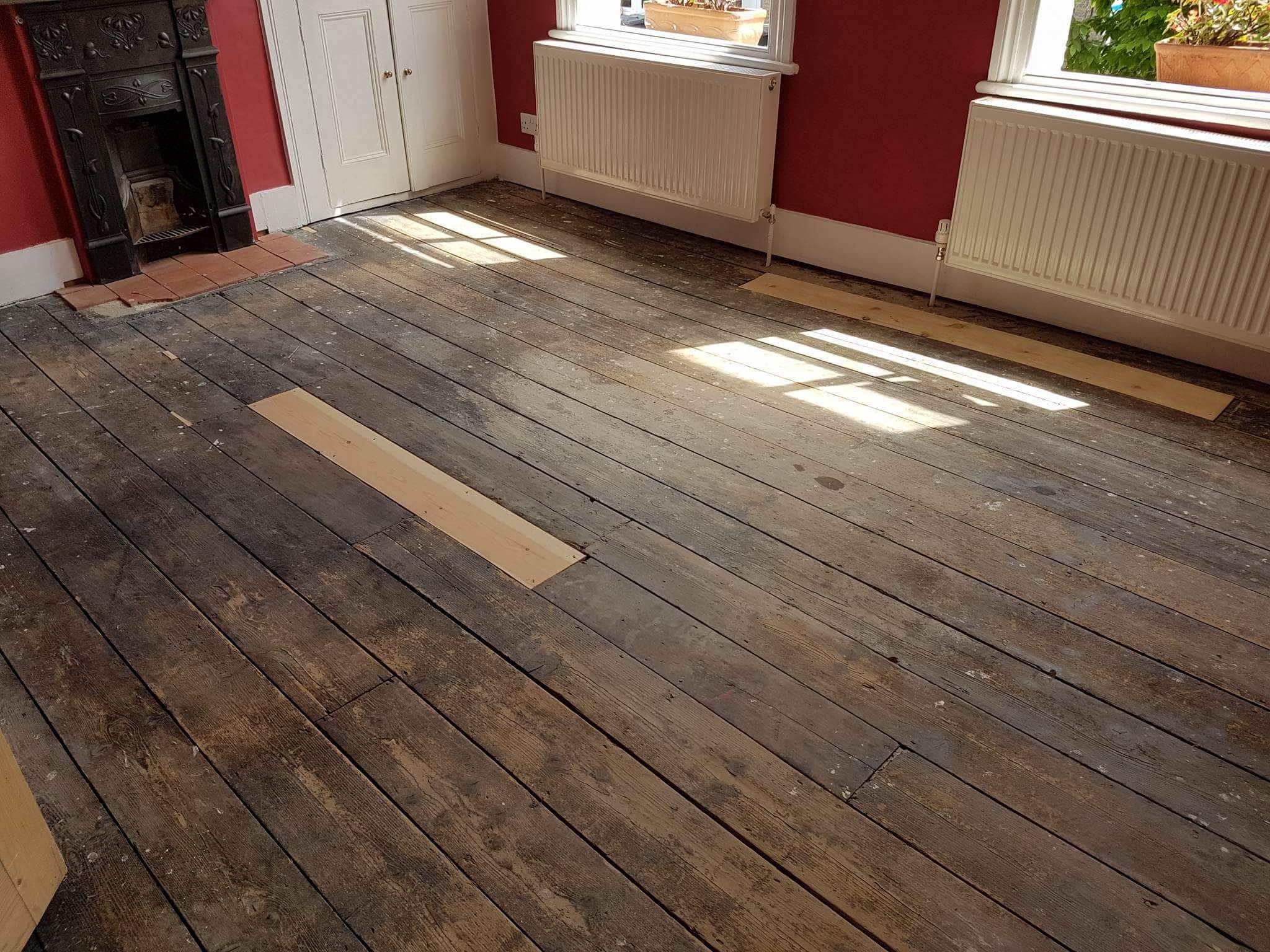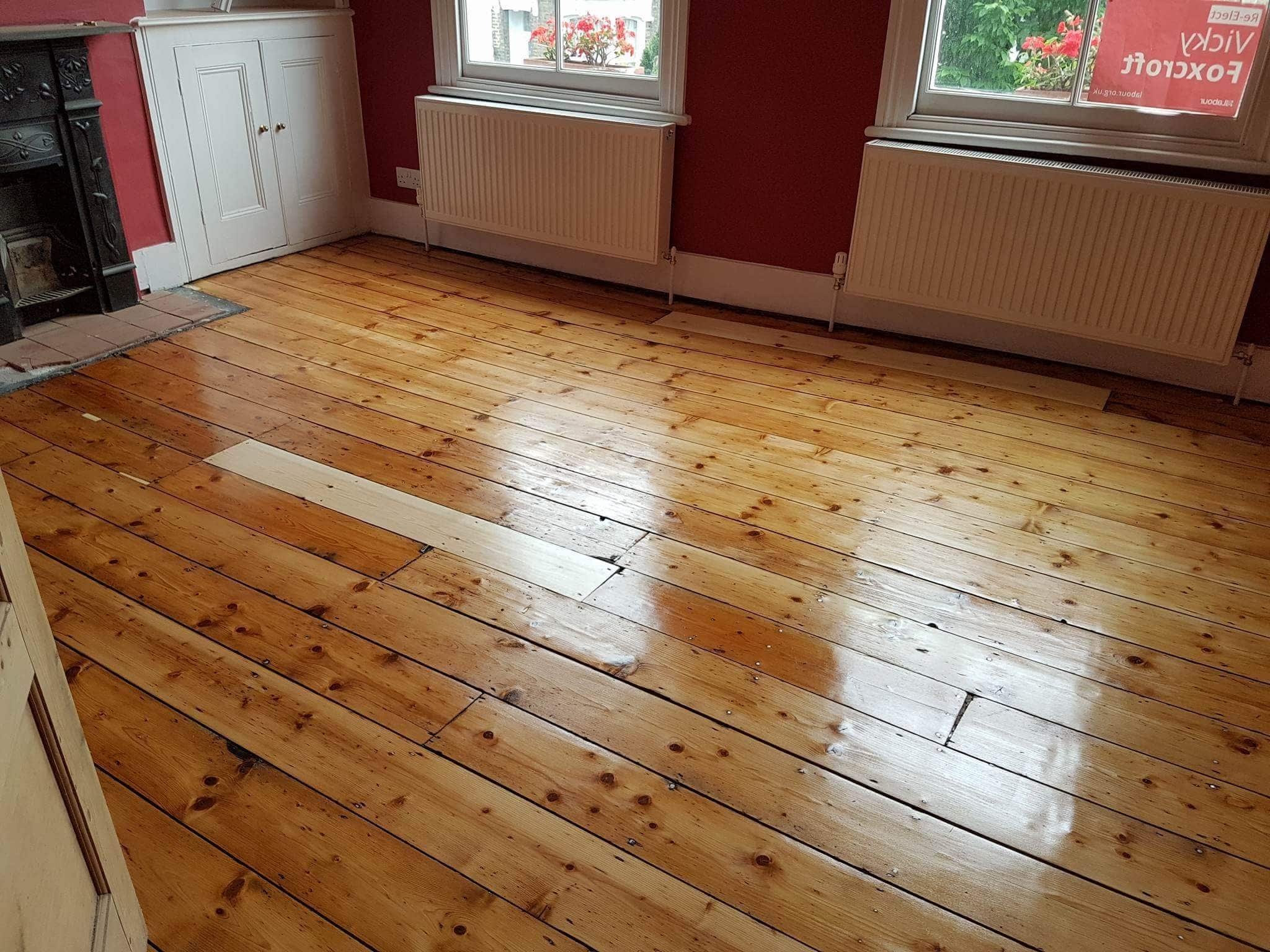 Dust-free Sanding Service
Unpleasant and time-consuming after-service dust cleaning won't be needed! Our company provides dustless floor restoration services, thanks to the advanced machines we work with – specially designed to collect dust particles with HEPA filters.
"Alpha Floor Sanding" will save your wooden floors
If you know that you would eventually have to have your wooden floors sanded, you might as well want to do it now. Especially if you have come across a reliable floor sanding company like "Alpha Floor Sanding", there should be no doubt in your mind that you can totally take advantage of our floor sanding services in Kingston. We've got everyone covered – our team will take care of both your home and the school your kid goes to or even historical buildings and churches.
Fill out the contact form, forget about all your wood floor restoration responsibilities and let us deal with all the hustle and bustle of wood floor maintenance!
We offer professional floor services also in Hersham, Mitcham, Walton on Thames, Cobham and more!
FLOOR SANDING PRICES
| | |
| --- | --- |
| FLOOR SANDING | – from £12 per m2 |
| FLOOR SANDING AND 3 COATS OF LAQUER | – from £15 per m2 |
| FLOOR SANDING AND 2 COATS OF OIL | – from £16 per m2 |
Please consider the costs of any project depend on different factors:
Condition of the floor
Type of the floor
Shape of the room/s
Size of the room/s
Wood floor pattern
Time needed to prepare and finish the floor
Our minimum charge is £400.00
All prices are subject to VAT