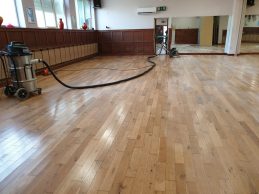 LIGHT SANDING
Light sanding or buffing is a process of removing the surface finish of the varnish, lacquer, wax or oil.
Have in mind that light sanding works only if the scratches and wear of the floor are superficial. Deep scratches or stains will need full sanding to bare wood and full
coating.
We use specially designed slow rotating buffing machines. All of our equipment is attached to HEPA filtered dust extraction units to keep your premises clean and tidy during the work.
FLOOR SANDING SERVICE
Floor sanding is a process of taking off the top layer of a wooden floor with abrasive materials. All solid wood floors including parquet, original floorboards, artistic floors, cork or engineering floors can be sanded as long as they have at least 2mm top layer.
Every floor is sanded differently depending on:
● The type of the floor.
● The thickness of the floor.
● Condition of the wood.
● The type of old finish that needs to sand.
● Deepness of the scratches or dents made previously.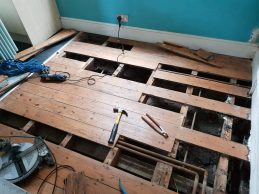 WOOD FLOOR REPAIRS
Due to the nature of the old floors that we work with minor or major repair works are an inevitable part of our job. Repair works are the base for the best results of the restoration of every wood floor and preparation for the next phases of the restoration process. During the free site visit, our experts will observe all the broken, cracked, rotten or missing elements of your floor if there are any and will suggest the best solution for every situation.
GAP FILLING
Filling the gaps of your floor can be done in different ways.
Alpha Floor Sanding Ltd offers various solutions for any situation.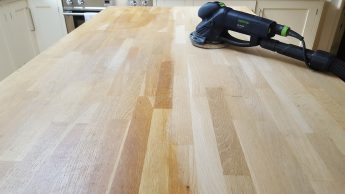 Worktop Restoration
Worktop Restoration is a process of sanding the top surface of your wore and torn worktop to bare wood and reseal it with water repellent and dirt resistant food-safe products specially designed for this need.
SCHOOLS AND COMMERCIAL WOOD FLOORING
All schools, restaurants, churches, halls, pubs, clubs, offices and public areas require special treatment and durable finish.
We know what your business or domestic needs are, and that is what we are offering to you.
Durable and long-lasting High traffic commercial finishes.
Easy to clean and maintain flooring.
Flexible working hours and night work.
Fast and clean service.
Compatible prices.
Attention to detail
No hidden extras
Maintenance advice