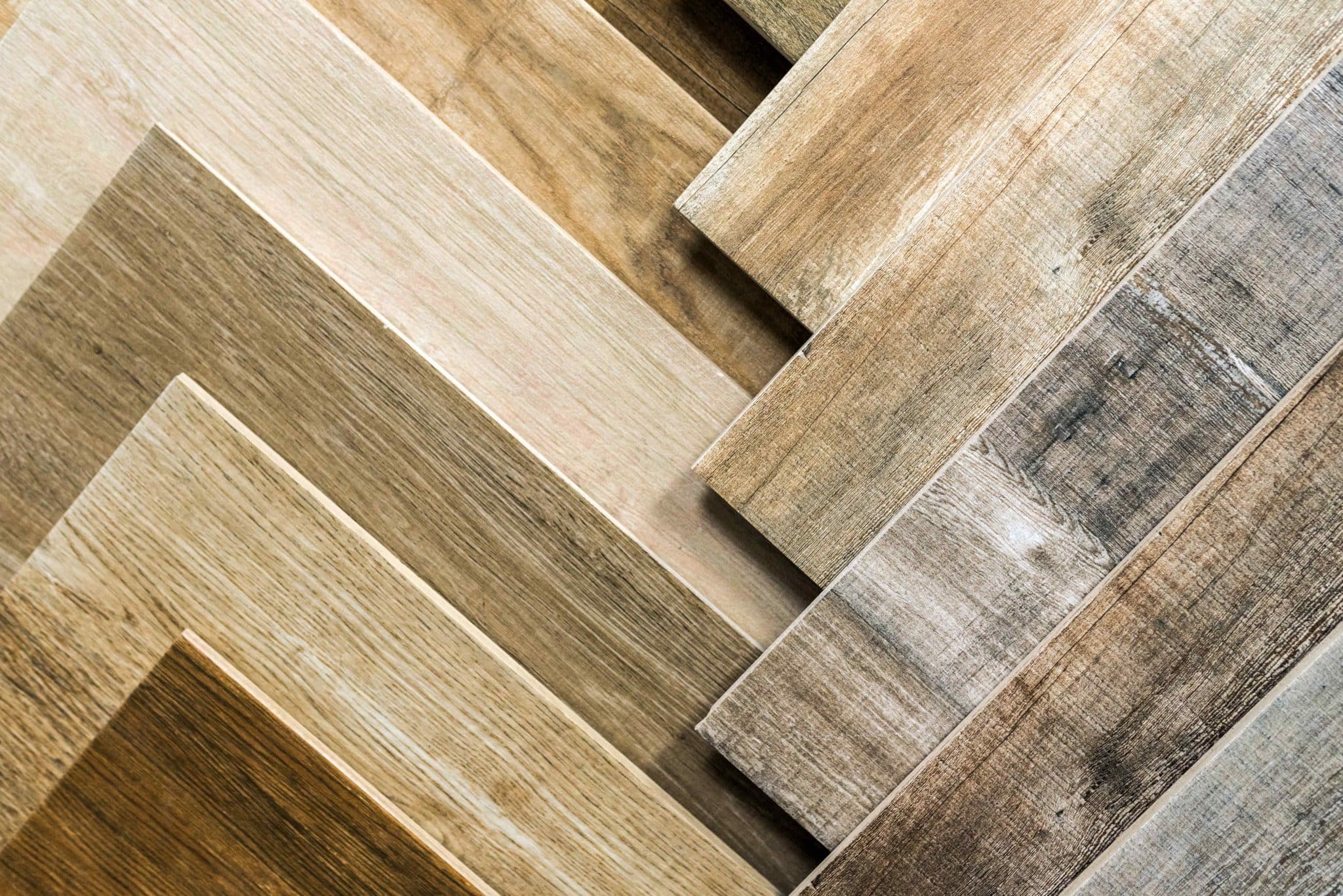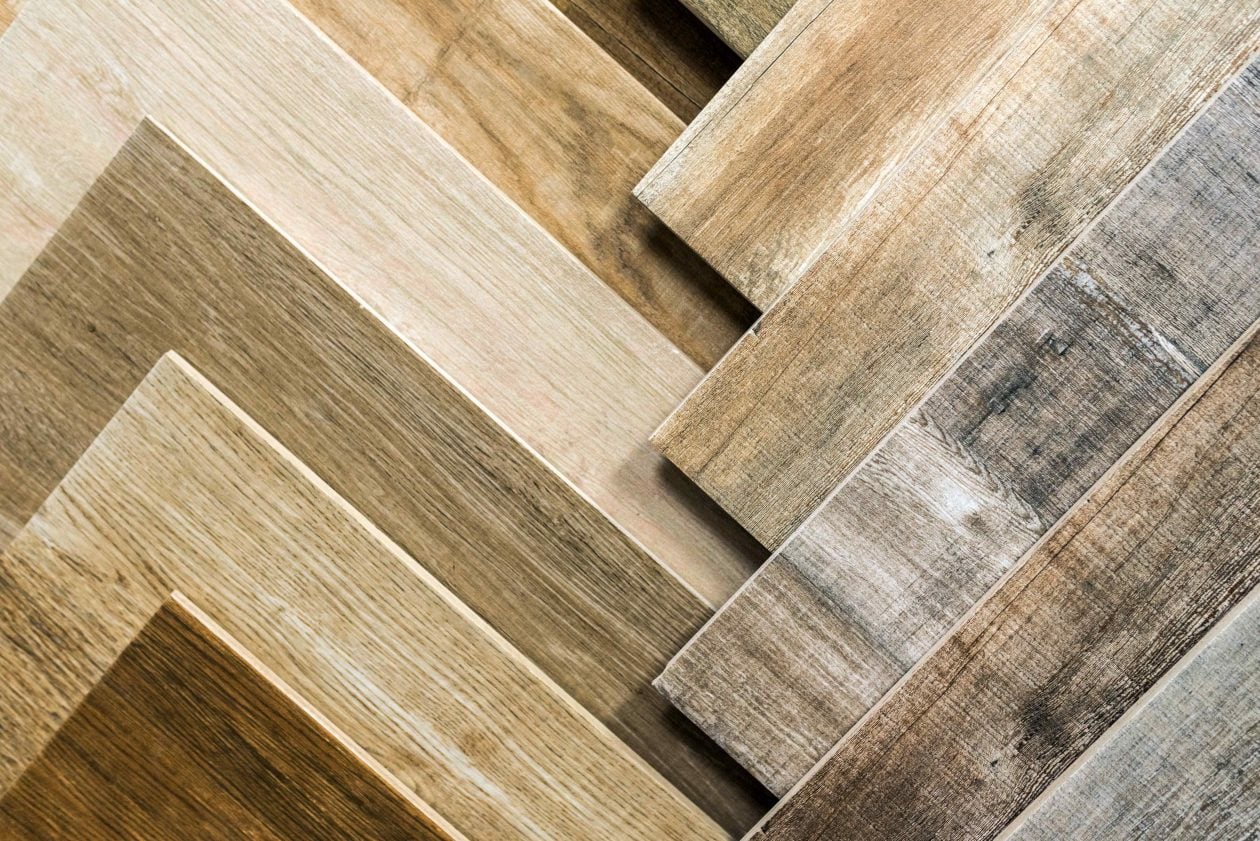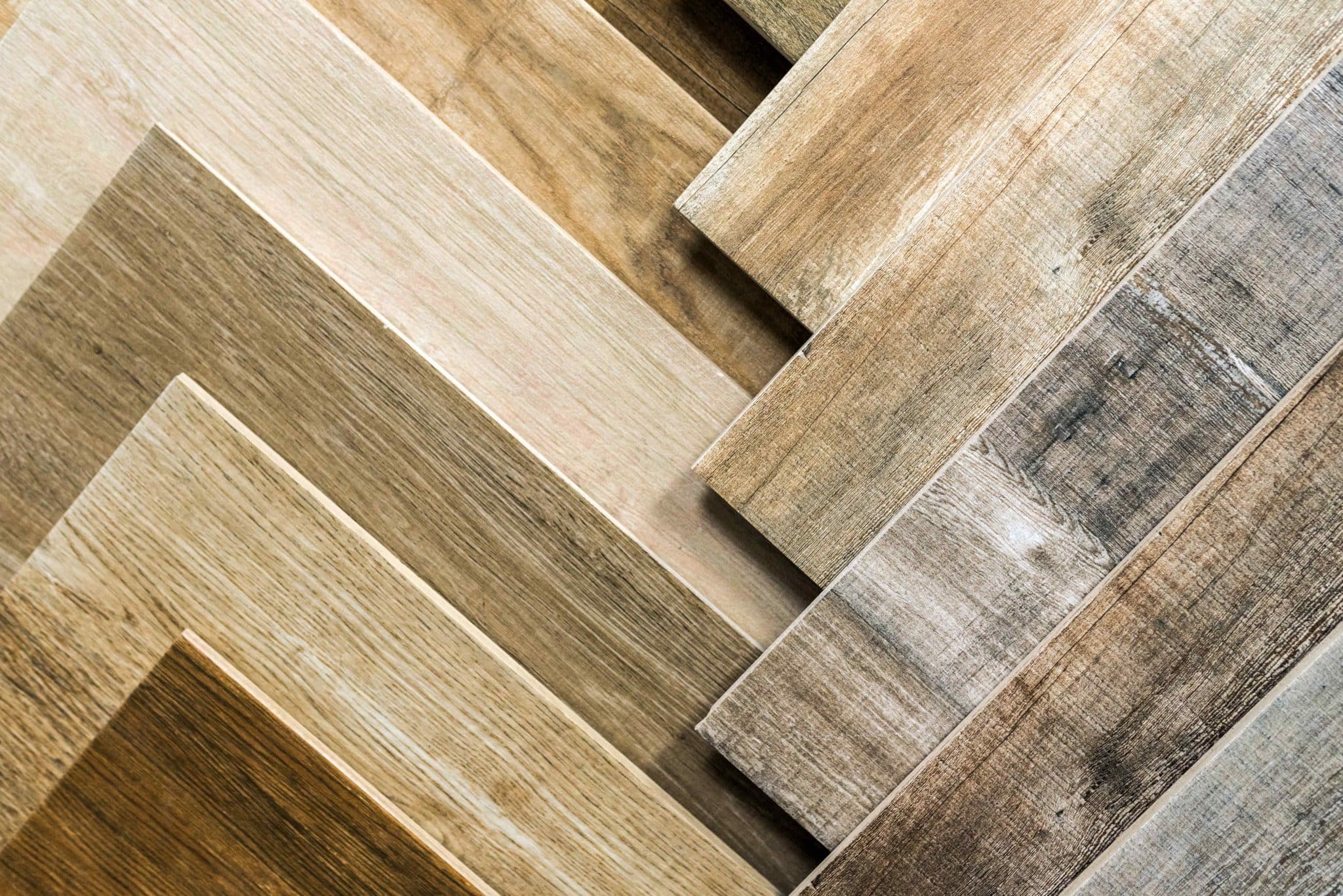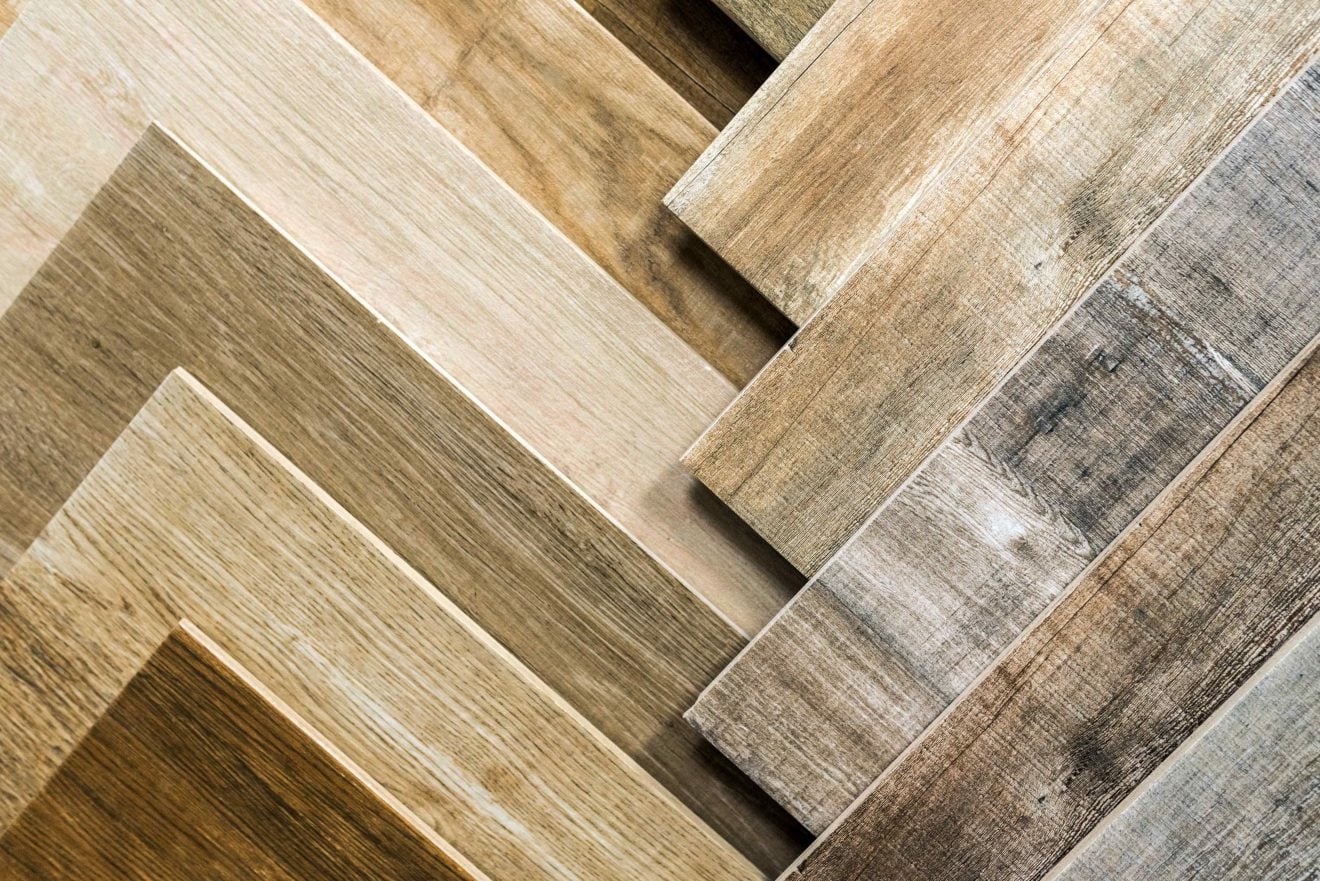 Whenever you're set to figure out what flooring options there are for your home or business, wood always comes at the top. It is a classic and timeless choice that adds warmth and character to any room. From solid hardwood to engineered options, there are many types of wooden flooring to settle on, depending on your needs. In this article, we will explore the different types of wood flooring, including their pros and cons, to help you make an informed decision when selecting the perfect type of flooring for a domestic or a commercial environment. Whether you're looking for a traditional, rustic, or modern look, there's a wood flooring option that will meet your needs and budget. So, let's dive in and discover the practicality and versatility of wooden flooring.
Solid hardwood flooring
This type of flooring is known as the most common and traditional one, due to its extended use for centuries ago and classical appeal.
What is a solid hardwood flooring?
Each solid wood board is made from a single piece of wood, which is typically 18-20mm thick. It is usually fitted using a tongue-and-groove system.
Solid wood flooring can be sanded back to restore the finish – the number of times you can do this is determined by how deep the tongue is set from the top of the board. It's also worth seeing how well the planks fit together in-store display panels, so look at the quality of the finish and the size of any gaps between the planks.
Wood is a natural material and the planks may vary a little in colour, but some more than others. Decide whether you want a smooth uniform look or a set of planks with a range of light and heavy grains.
Keep in mind that solid wood floorboards can amplify walking sounds, so it's recommended to pay down your favourite floor coverings, especially if you have this type of flooring on an upper story.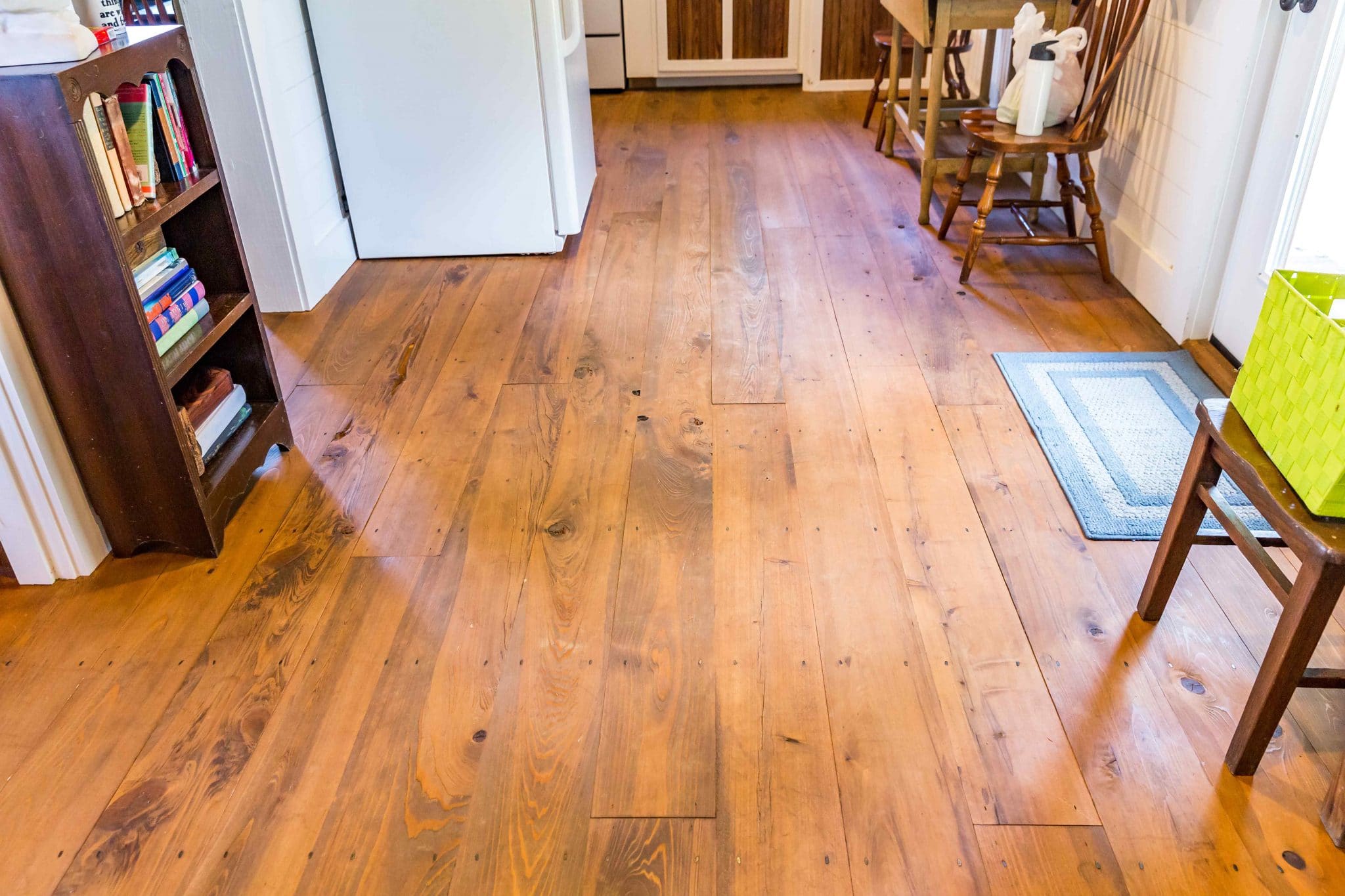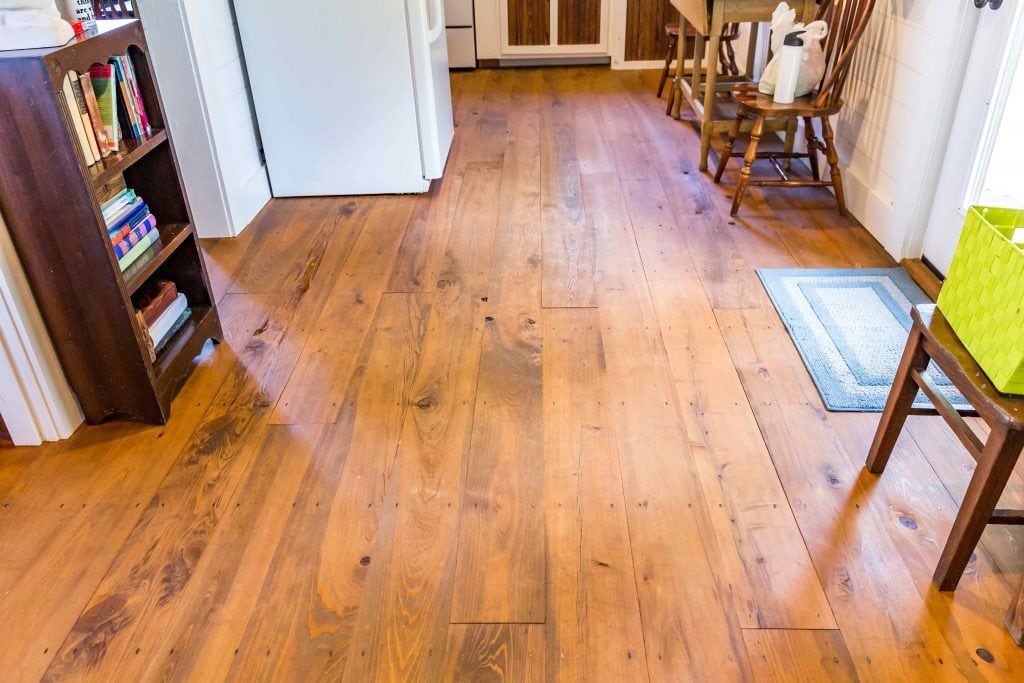 How much does it cost?
Prices differ, due to the fluctuating cost of the raw wood, but it's usually in the following ranges – from £15 to more than £80 per square metre for premium options.
Where to lay solid wood flooring?
It's advised to install such flooring in hallways and living room areas, where there's a consistent level of humidity.
Is it hard to maintain?
Although it requires more maintenance compared to other flooring types, solid wood flooring is still a great option for any indoor space. If you're prepared to ensure regular cleaning, protection and proper care, this flooring can be a beautiful and durable option for any room.
Pros of solid wood flooring
The appearance of hardwood floors and its durability are among the most significant of its advantages. The ease of installation, too, plays a big role in opting for it. Therefore, that type of flooring will easily add a lot of value to any home, both aesthetically and practically.
The best part about having solid hardwood floors is that you can sand and refinish them, no matter how long they have been installed. These retouches are vital for restoring the original finish after scuffs or scrapes. Find out more about our wood flooring sanding service in London here.
Due to the thickness of each board solid flooring has a big leg up when it comes to durability and that's why it usually outlasts other types of wooden floors.
Cons
The climate in any closed space is responsible for its condition – higher humidity levels can make the boards swell and a very dry environment can lead to their shrinking.
The installation process requires experience and tools, which means that not everyone can successfully carry out this tiresome and effort demanding procedure.
Solid wood flooring can cost a fortune, because it requires the use of top quality solid wood, which has become tremendously expensive due to the mass production of artificial and semi-wooden types of flooring.
Engineered wood flooring
If you're into experimenting with the interior of your home and hardwood floors don't suit your taste, then engineered flooring is a decent contender.
What is engineered hardwood flooring?
Engineered hardwood flooring is made of floorboards, each around 14 mm thick, which are connected with a tongue and groove system. Every floorboard consists of a few layers of wood and can still be sanded and refinished, when there's a visible need for restoration.
This type of wood flooring can also be found available with click-lock installation, which doesn't require any adhesive. But the tongue-and-groove versions will need to be glued into place.
What is the cost of engineered wood flooring?
Engineered floorboards can cost somewhere from £19 per square metre, to more than £160 for higher quality wood.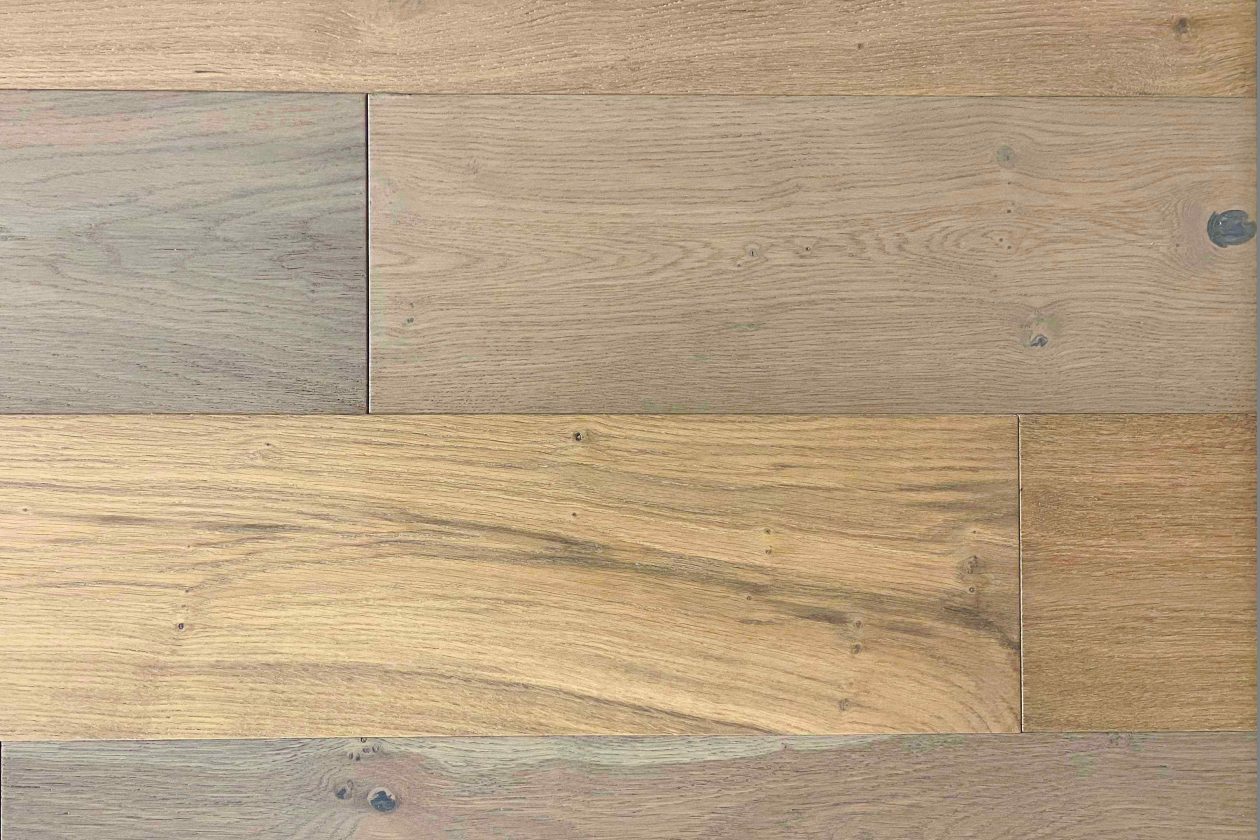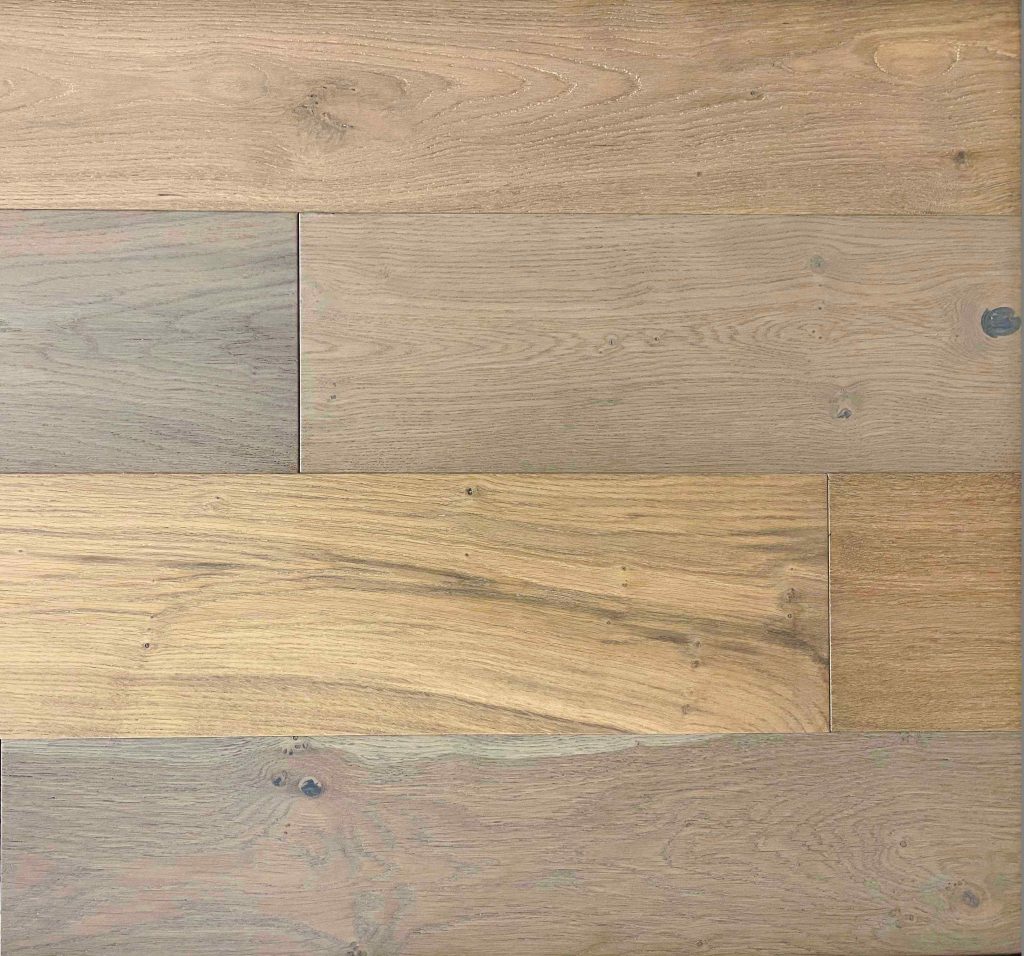 Where should engineered flooring be laid?
Although this type of flooring can be cleaned with water-based products more frequently compared to hardwood flooring, it's still better to avoid installing it near bathrooms, where there's more moisture. Laying it on a staircase is also not recommended because many complications can occur. That's why having engineered flooring in living rooms and bedrooms is always much more convenient.
It is also important to consider how hard it can be to achieve a good finish around corners, too. For instance, around sink pedestals.
Is it challenging to maintain engineered wooden flooring?
In comparison to solid wood flooring, engineered floors are much easier to upkeep. Only if frequently and properly taken care of, this flooring can really last a lifetime. In order to accomplish this goal, one should establish a set of cleaning chores such as sweeping and mopping, which must be completed regularly. You should keep in mind that the finish of the wood will determine which cleaning method is better and how often it should be completed.
Benefits of engineered wooden flooring
It is less resistant to humidity and heat, which makes it suitable for different climate environments.
Since its construction attributes to its durability, there's a smaller chance for random gap openings, which do happen, especially when the wood has started to age. Also many contractors provide gap filling for engineered floors in London, which in general is not an expensive service, especially if the gaps are not too big.
You can lay down engineered hardwood flooring at any level, including below ground, unlike solid flooring which isn't appropriate for basements.
Compared to laminate floors, it's more elegant and appealing, but cheaper than solid wood.
Although it has already been mentioned a few times that engineered flooring is indeed known for its durability, it's hard not to stress the importance of this quality, because it ensures you a lifelong investment.
Drawbacks
This flooring can be composed in different designs, which contributes a lot to the difficulty of installation and then also daily maintenance.
It is on the pricier side in contrast to the mainstream flooring options which are made from synthetic materials and little to no wood.
Which is the best type of wooden flooring for your home – solid or engineered wood floors?
Both of these flooring options have their perks and drawbacks, that's why it is a very individual decision, which must be based on other factors like expenses, ease of installation and upkeep demands. But a mistake most people make is to believe that engineered flooring isn't made out of wood, which it actually is.
Vinyl flooring
Vinyl flooring is a popular alternative to wooden floors. It is made out of synthetic materials such as PVC and can be found in a variety of designs, textures and colours, which are supposed to mimic real wood, for example. This flooring can be installed over concrete or an already existing floor structure.
Vinyl is one of the most popular flooring materials due to its low cost, adaptability and abundant range of designs and finishes. Vinyl is highly resilient, which means it can be used to simulate a variety of designs including ceramic, hardwood, marble and stone.
How much does vinyl flooring cost?
Typically, the price for vinyl flooring begins at around £7-8.
Where is it appropriate to lay vinyl?
Due to its durability and versatility, vinyl flooring is appropriate for both home and commercial interiors. It can be used in kitchens, bathrooms and bedrooms.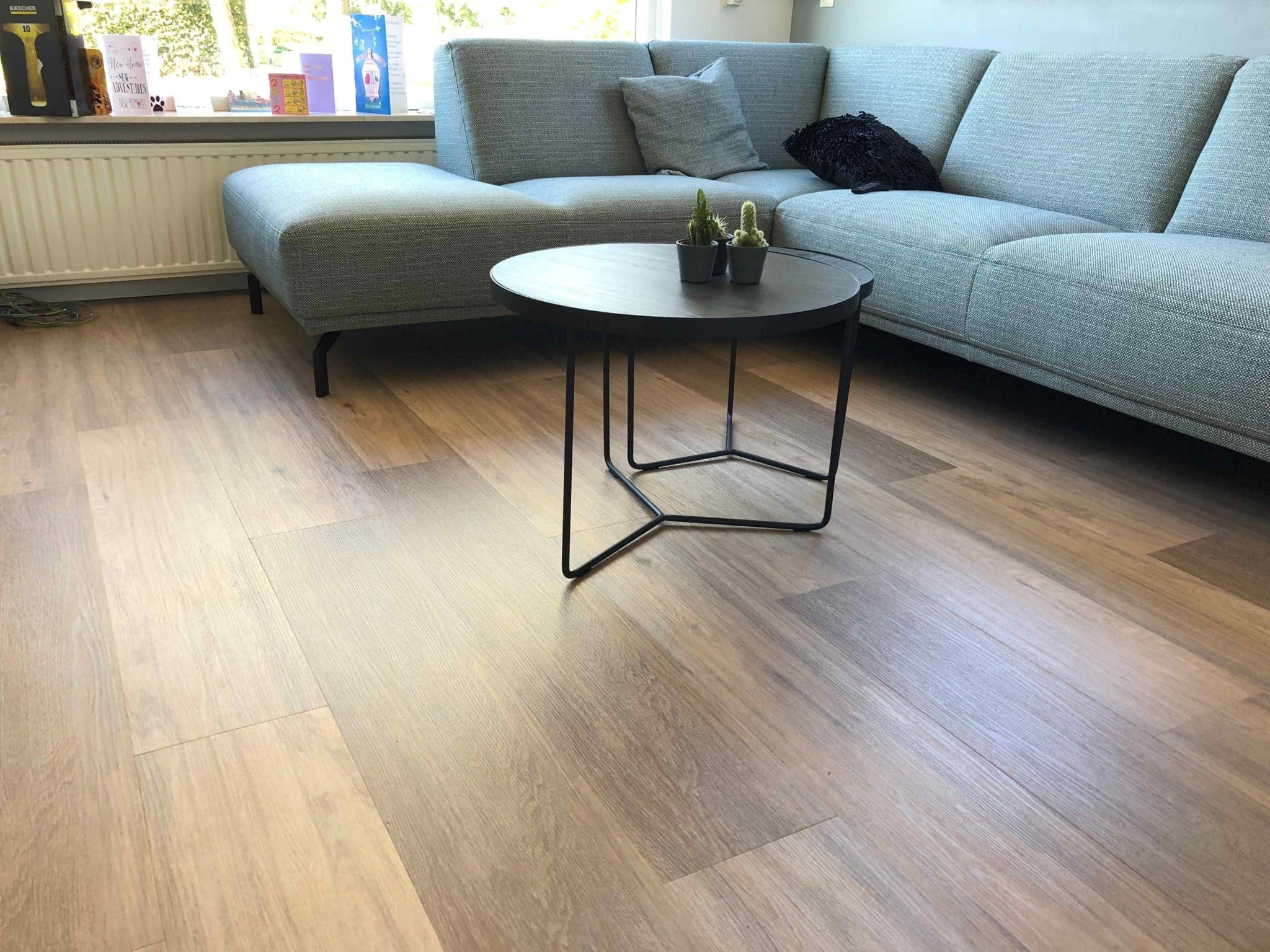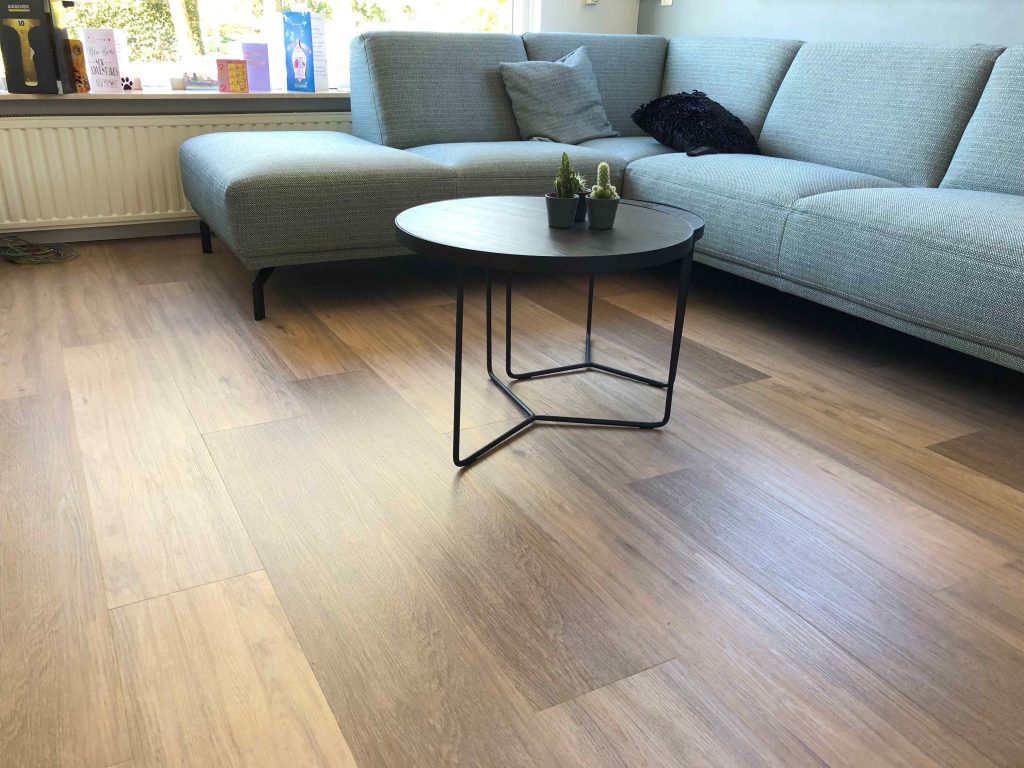 Is it hard to maintain?
Vinyl flooring is way easier to upkeep because it is made of synthetic materials, which aren't prone to moisture or heat damage. This also indicates that cleaning procedures are much less complicated and can be performed more frequently, if there are higher levels of dir accumulation indoors. With proper care, it can last for many years and retain its original appearance.
Pros
Vinyl is very durable, which enables the flooring to withstand ordinary wear and tear. Scratches and marks are also harder to appear on the surface.
It is way cheaper than other options, which is why many people prefer to put all their eggs in one basket with this one flooring type.
The installation is very time-efficient, because it doesn't involve any complex procedures, which can save money on labour costs.
It comes in a variety of designs and styles to suit any commercial or residential interior.
It is resilient and easy to maintain, which makes it perfect for commercial spaces like beauty salons. And being slip-resistant makes it great for pets and children.
Cons
Vinyl floors are not very suitable for industrial spaces because they're not designed to withstand heaviness in all of its aspects and constant pressure from sharper objects like high heels.
When exposed to direct sunlight colours will gradually start to lose their vibrancy, which will contribute to the worsening of the interior's aesthetic.
Laminate flooring
Laminate flooring is a multi-layer synthetic flooring structure. It consists of many layers of materials which are combined through the process of lamination. The surface of laminate flooring resembles wood with a photographic applique layer under a clear protective layer.
How much does laminate flooring cost?
You can find laminate flooring as cheap as £3 per square metre and the price can go up to more than £40 per sq.m.
Where should you lay laminate flooring?
You can totally install laminate floors in living rooms, studies and playrooms. Some laminate products include a waterproof core which means they can be used in bathrooms and kitchens.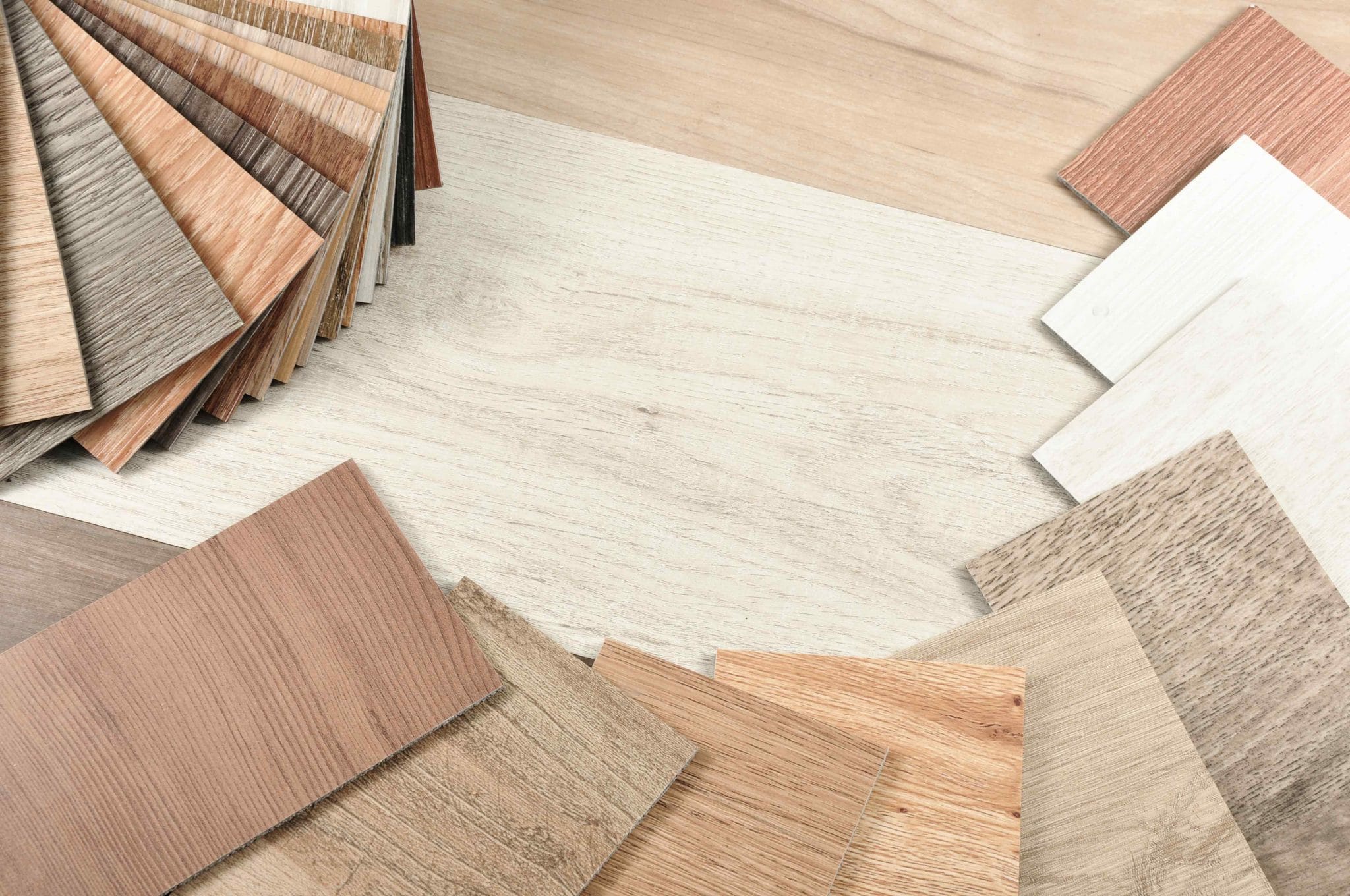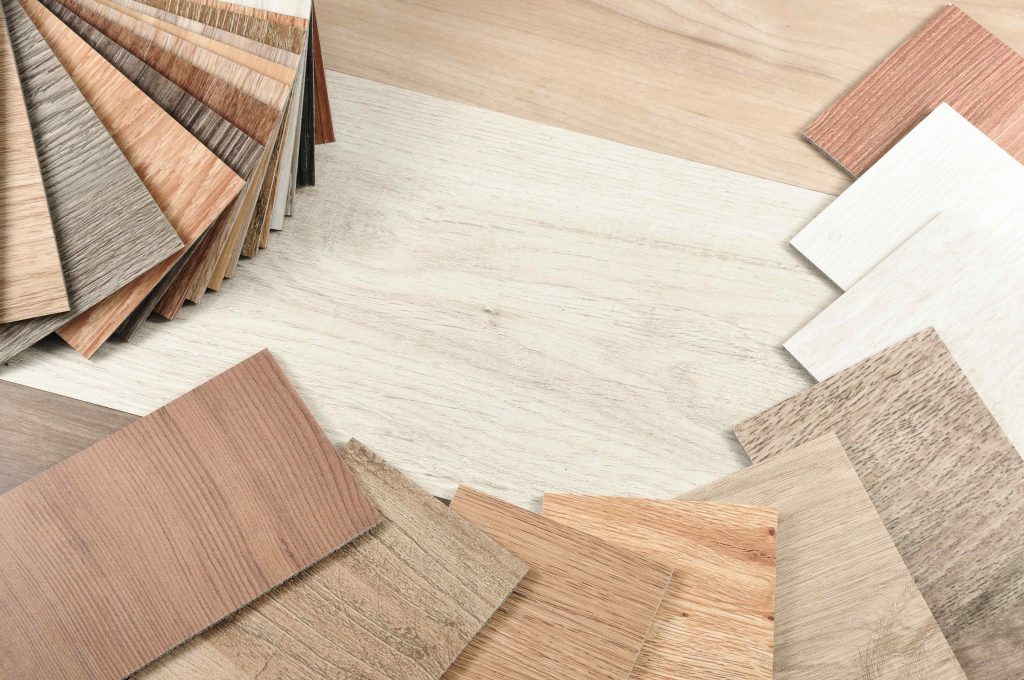 Is it hard to maintain laminate flooring?
Laminate flooring doesn't require special cleaning efforts and can therefore be maintained by everyone, yet still sustain its initial appearance.
Pros of laminate flooring
Laminate flooring provides a faux wood effect, allowing you to enjoy the aesthetic benefits of real wood without the need for costly maintenance or greater expenses.
The installation process is easy and straightforward.
The surface is resistant to scuffs and scratches, meaning it is a long-lasting and durable option.
A gret range of natural materials can be duplicated – from wood to stone designs.
Cons of laminate flooring
Even the priciest and most luxurious laminate flooring won't look or feel exactly like the material it mimics.
If the installation wasn't done properly, it can look scruffy.
As time goes by the joints will start to wear out and if there are more major repairs waiting to be done, it may be impossible to restore initial quality.
Moisture can cause swells and if these humid conditions are constant, the damage is irreversible.
It cannot be sanded or refinished, like solid hardwood, which means it must be replaced.
Reclaimed wood flooring
Reclaimed wood flooring is made out of wood which has been recycled or repurposed from previous wood products. Although it has been salvaged from other construction sites, that doesn't mean it lacks quality. In fact, reclaimed wood is still very durable and good for building projects.
How much does reclaimed wood floor cost?
The cost varies between £25 and even up to £100 per square metre. It depends on age, condition, type of wood and width of the boards.
Where should you lay reclaimed wood flooring?
It can be installed anywhere, but it is recommended to avoid spaces with higher levels of humidity.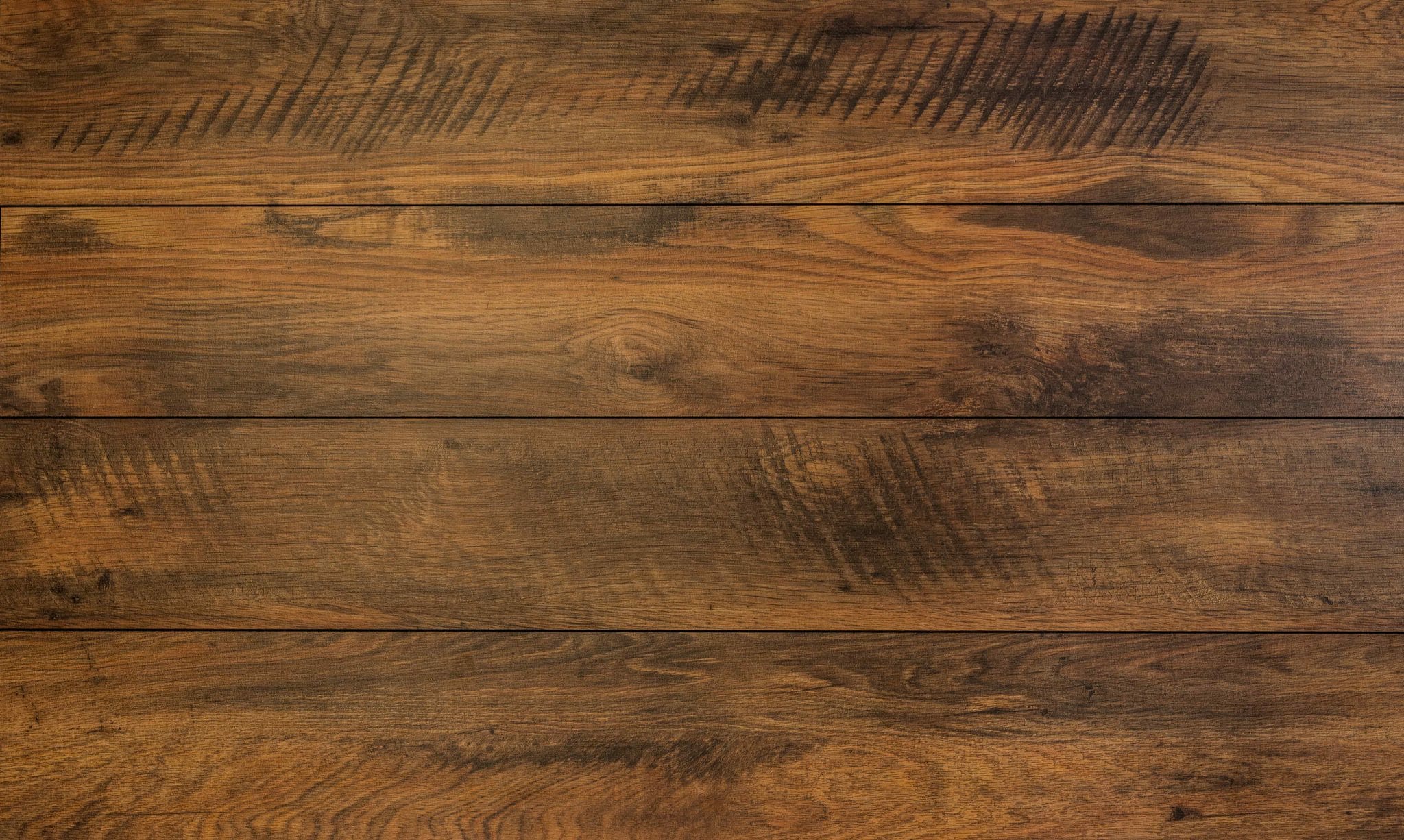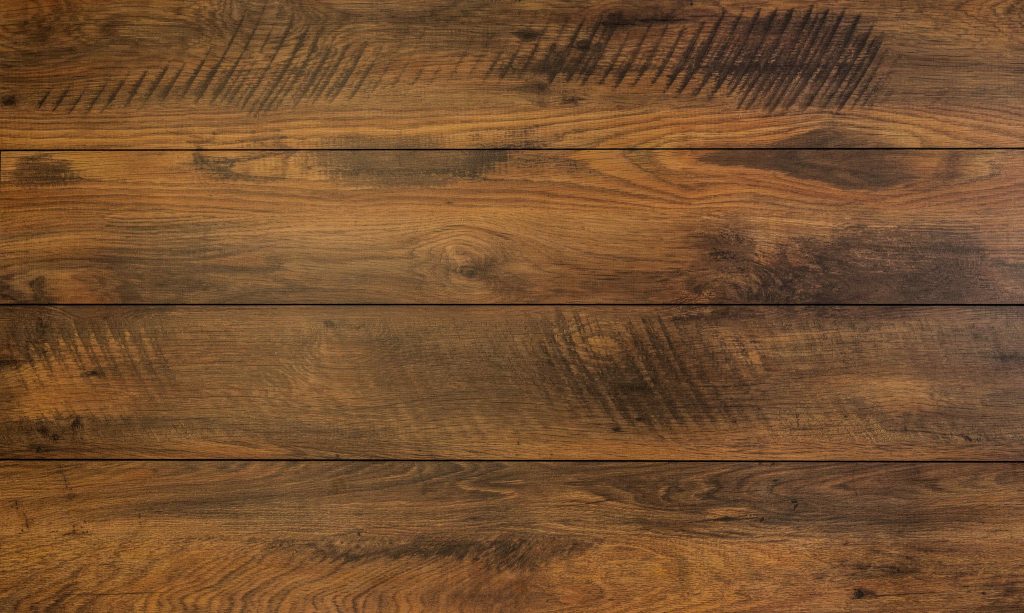 Is it hard to sustain?
Reclaimed wood flooring does require more upkeep effort compared to other types of flooring, such as vinyl plank or laminate, because it is often older and may have been previously exposed to different environmental conditions.
Pros
This flooring option is the most eco-friendly of all, because when you use reclaimed lumber, you decrease the demand for newly sourced timber, which helps curb deforestation.
Reclaimed wood has its own unique aesthetic and appearance, which can be enhanced by years of wear and use, giving it a special character.
Reclaimed wood tends to be stronger, more durable, and of generally higher-quality than the rushed, mass-produced materials availabe on the market nowadays.
Cons
Surprisingly enough, reclaimed wood may be more expensive than other hardwood flooring options. However, it all depends on the policy of the provider.
Reclaimed wood can often be prone to pests or other imperfections.
Parquet flooring
Parquet flooring is usually made out of small blocks of hardwood, which are laid in a tongue and groove system and can also be sanded.
Sometimes referred to as mosaic flooring, parquet flooring is appreciated for its decorative effect, because it can be laid in different geometric designs. Parquet flooring can be made from solid and engineered wood.
How much does it cost?
Parquet flooring is more expensive, usually around £30 or higher than £50 per square metre.
Where is the best place to install parquet flooring?
It looks best in hallways and reception areas so that its appeal can be showcased daily. It requires relatively constant environment conditions, which won't enable water or humidity damage.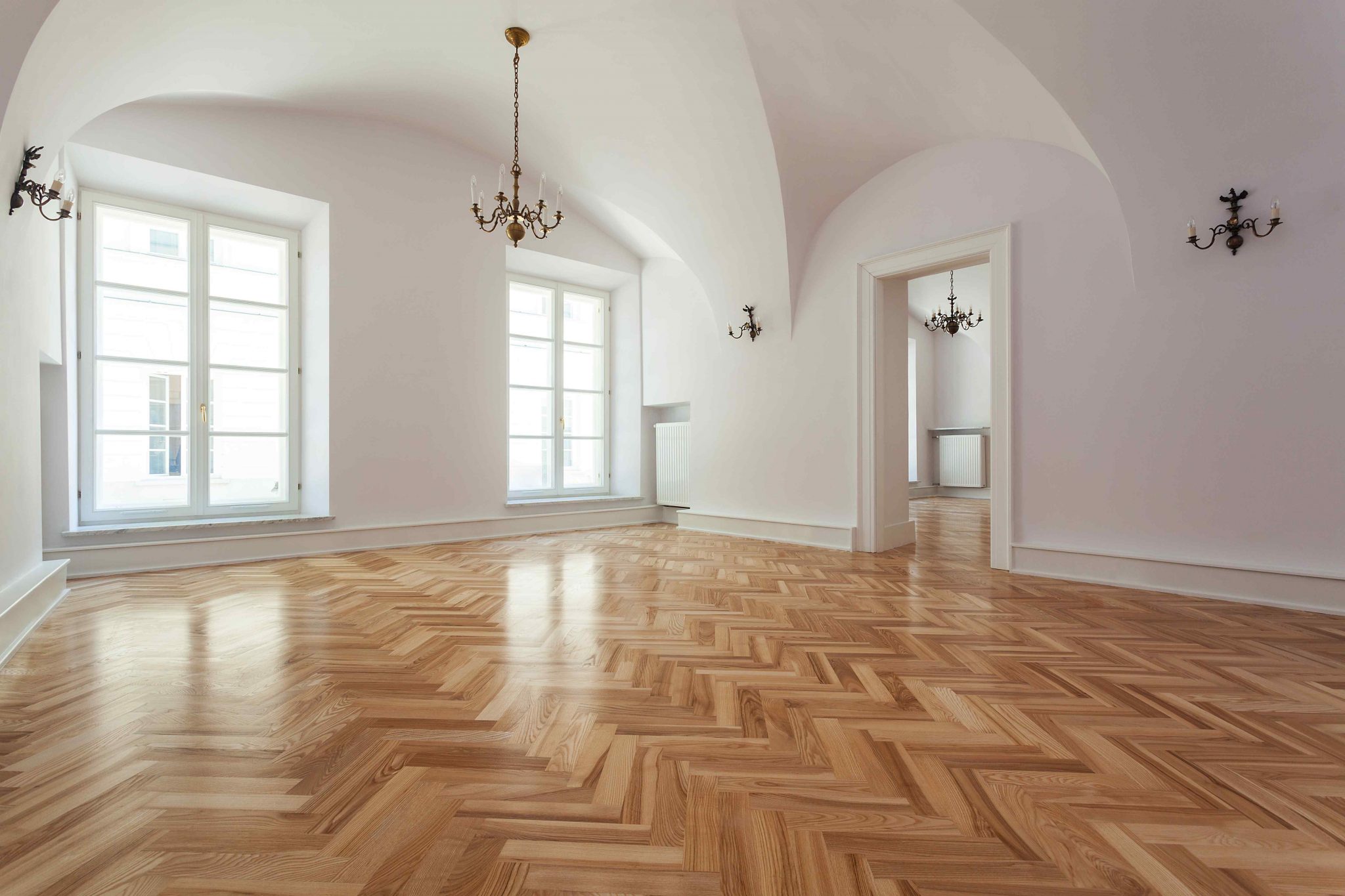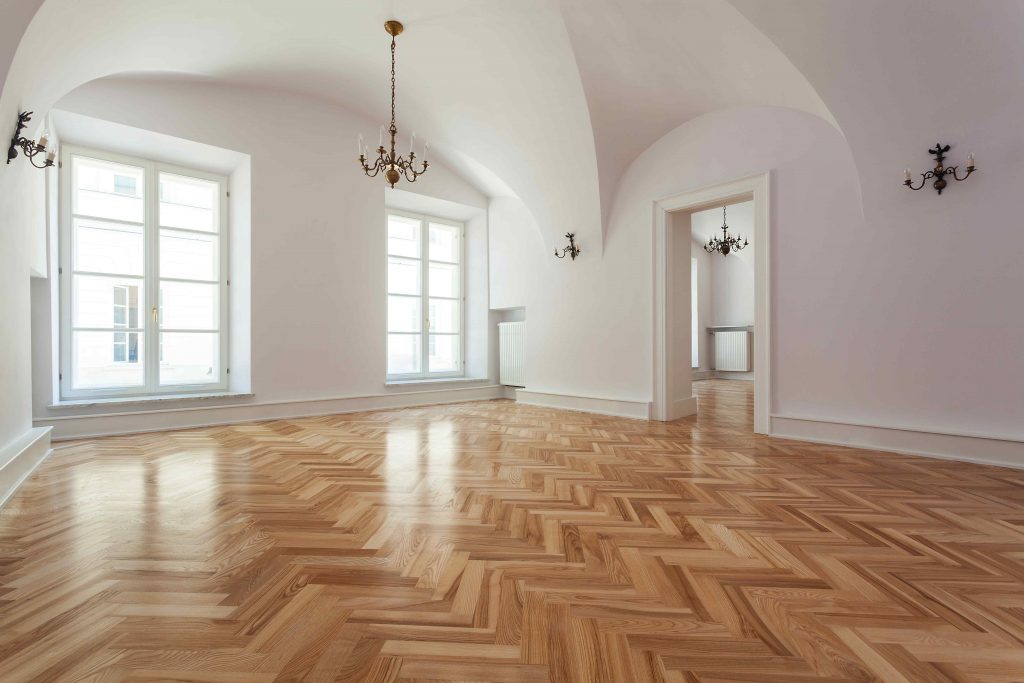 Is it hard to maintain?
Parquet flooring is an attractive and unique choice for floors, but it requires more upkeep than other types of flooring to ensure its longevity. Without proper care and maintenance, parquet may be prone to warping, cupping, and discoloration.
Benefits of parquet floors
Parquet flooring is an elegant option that exudes warmth and beauty, making it a perfect choice for most interior settings.
It is relatively easy to sustain. Abrasive materials can't be used to clean it, but regular sweeping and cleaning using compatible products preserves the appeal of the parquet flooring .
This flooring is highly durable and can last for a long time.
Installing parquet flooring can be a smart way to increase the value of your home.
Drawbacks of parquet flooring
Just like other wooden floors, parquet flooring is susceptible to scratches and scuffs from small sharp objects, such as high-heeled stilettos. Once damaged, it can be difficult to repair and restore the floor back to its original look.
When exposed to sunlight, the colour of the parquet flooring can start to fade.
Like all wood flooring, parquet flooring is prone to damage from moisture and humidity.
It requires frequent upkeep—it is essential to polish, sand and seal, as required. If this is not done, the floor will look dull and lose its appeal over time.
Cork flooring
As the name suggests, cork flooring is made of cork, which is derived from the evergreen oak tree (Quercus suber) and can be found in two different style structures:
click -together planks;
glue-down tiles.
How much does it cost?
The prices start from about £20 per square metre for cork tiles.
Where is the best place to install cork flooring?
Cork flooring is an ideal option for children's bedrooms or playrooms due to its soft surface and slight cushioning effect. It can also be used in the bedroom, as it retains heat which makes it feel warm underfoot. Furthermore, cork does not absorb dust or mites, which makes it suitable for those suffering from allergies. Don't be afraid to use it in the bedroom, either – cork retains warmth and feels comfortable when walking barefoot.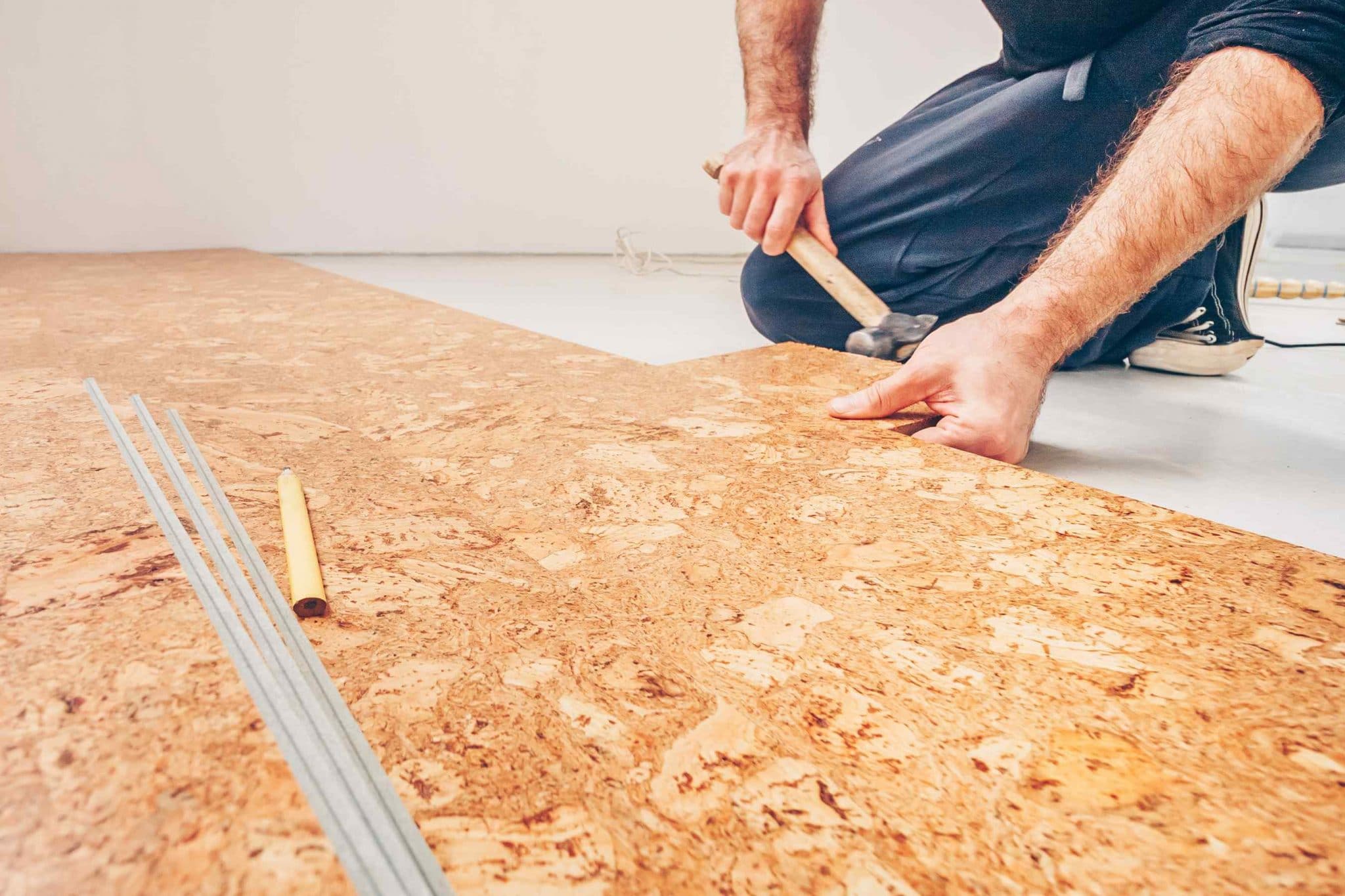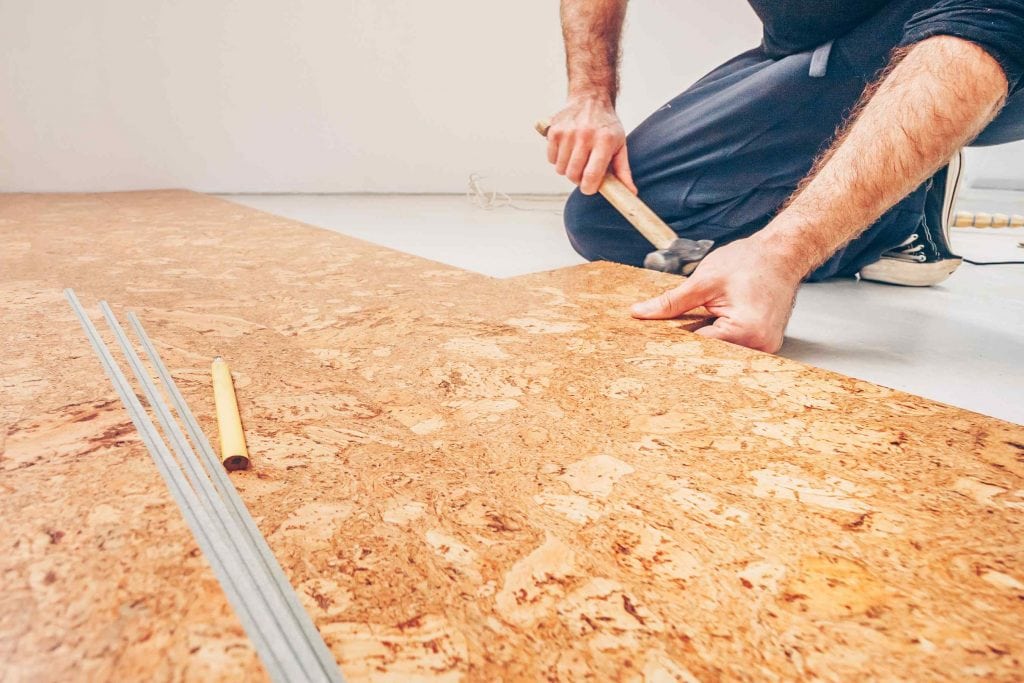 Is it hard to maintain cork floors?
In order to maintain cork flooring, it is essential to vacuum or sweep the area on a weekly basis in order to remove any debris that may damage the surface seal. Additionally, spills should be wiped up immediately before they have the chance to penetrate the sealant and seep into cracks between tiles.
Pros of cork flooring
The perks of this flooring type includes absorption of sound, exuding warmth all year round, doesn't absorb dust or mites (making it good for those with allergies), shock-absorbent and durable, so it can withstand plenty of foot traffic
Cons
It is unlikely to last as long as hardwood floors, can be scratched and is susceptible to furniture damage. Also, it sure doesn't fit in everyone's preferred budget.
Factors to consider when choosing wooden floors
Choosing the proper wooden flooring for your home can be an overwhelming task. It is quite an important decision, so you should take into consideration multiple factors such as:
Type of the room – is it going to be a high-traffic area.
Humidity and sun exposure of the premises – high humidity and direct sunlight may damage some types of wooden flooring or change their appearance.
What maintenance it would require – some floorings require a lot of maintenance and are very prone to scratches or other types of damage.
Pets – will the flooring endure the presence of your four-legged furry friends, which can turn any floor into their sacred playground.
Budget – not breaking the bank is essential but investing in the proper flooring is important, too. If you know there's no way you can stretch your budget, avoid looking at those beautiful but also costly options.
How hard the installation is – don't underestimate the effort it would take to lay down any type of flooring. Consider professional assistance, if you can't handle the task yourself.
Are you going to use underfloor heating – some flooring materials may be prone to heat damage, therefore one should keep in mind what heating system they have.
Design – of course, aesthetics are hard to avoid. It is always better to have nicely looking floors, but never to forget the practicality factor, which would indicate the lifespan of the flooring.
Conclusion
Every flooring type has different perks to offer and finding the one which would suit your needs is a matter of extensive research. "Alpha Floor Sanding"'s team of professional floor sanders would like to encourage everyone to never settle for a type of flooring, just because it looks beautiful or they've seen it all over their friend's houses. This choice should only be influenced by the environment conditions and the purpose of the indoor space. It is always better to conduct a consultation with an individual or a company like ours, which is experienced in the field of flooring maintenance.